Gerard Lyons, the Singing Potter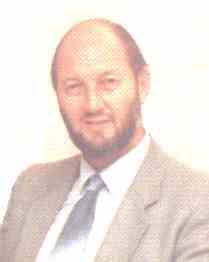 One morning I awakened to the realisation that of all the people I know and have known, those who are Christians are undoubtedly the happiest on earth. This was something I'd sought all my life. In this pursuit I studied for the Catholic priesthood at Oxford and Rome, only to leave one week prior to making a lifetime commitment as a priest. Back in Scotland, I enrolled at the Glasgow School of Art, from which I graduated in 1965. During my years of study as an artist I studied at the Royal Scottish Academy of Music, and later sang with the Scottish Opera. I gained much experience at that time by working at various temporary jobs.
As time passed, despite the appearance of a successful life, I knew that I had yet to find real happiness. Having tried what seemed all the obvious ways —whether as a cleric, singer or in show-business, etc. — I failed to find the answer to life's problems.
Finally on my way to a singing engagement in Los Angeles, California, I was given a book called "The Happiest People On Earth". My friend told me that I would meet the man who wrote the book when I arrived in California. My host, Jim Binnie, glancing at the book, discovered that the man lived only one mile away from where we were staying. When he took me there I was told about a God who cared for our every need.
Later, on returning to Scotland, I was working on an outdoor painting commission when a local window cleaner, Alex, stopped by to give me directions to a house in the vicinity. When I saw his FGBMFI badge, I was astonished. The Full Gospel Business Men's Fellowship International (FGBMFI) was spoken about in that book. At the best of times I am not particularly observant, being frequently lost in a world of my own. Alex asked me to do a commission for him on his house, which I discovered was immediately behind Paisley museum, where I had first made a real impact as an artist and potter.
What puzzled me about Alex's prosperity was that only he and his son were in the window cleaning business, and yet they could afford such a lavish lifestyle. Sure that they must have something I did not, I asked if I could attend a Fellowship meeting in Paisley.
That night I remember thinking about a salmon, which swims all the way into the ocean for thousands of miles only to return to the original stream where it was born. Suddenly a prophecy was given, that the life of a Christian was like a fish swimming up-stream to reach its spawning ground. Needless to say, I thought that perhaps this was some kind of a mind reading act. Shortly after this event the speaker announced that he had been the worst of rogues and whenever trouble came to his neighbourhood the police found the culprit at his door. He now looked respectable and had obviously changed. When he asked those wanting to receive the best advice for their lives to raise their hand, mine went straight up. He asked us to come to the front. I found myself rising from my chair and joining the others.
Arriving at the head table, all embarrassment left me. The men asked me if I was prepared to acknowledge that I was a sinner before God and was sorry. I said yes, and then I asked the Lord God into my life. Alex and his wife later instructed me to read my Bible and go regularly to a sound church fellowship. Subsequent to this event other Christians seemed to appear from nowhere to help and assist me.
A few weeks later, while pondering what to look at on television one evening, I noticed a book at the foot of my chair. Picking it up, I was astonished to see that it was a Bible. Remembering Alex's advice, I opened it. The words became meaningful to me — it seems so intelligently and carefully written. Another time, when thinking about the meaning of love, I happened to notice the Bible again and picked it up. I opened it and was astonished to find that I had turned directly to the words "love is patient, love is kind, love does not envy, love does not boast." Was it a magic book? No, but I soon discovered that it was God's gentle hand in my life, proving He really cares for me.
Within a year I discovered that pains in my chest were indicative of a serious heart condition. There was nothing the doctor could do except to give me pills for the pain. However, one evening when some fellow Christians prayed for me, I was subsequently healed.
Known as the Singing Potter, my tapes of sacred music are purchased by people throughout the world who come to my shop. There I am able to tell them about the most famous "potter" of all, who taught me all I know. The Lord has used me to reach thousands of people and lead them to Him, the Divine Healer. I have at last found peace and joy — the happiness that I longed for since childhood. Truly, Jesus is the answer to all our problems.
Contact Gerry at :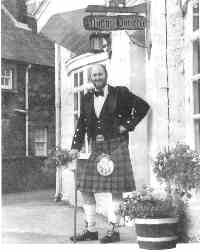 Moffat Pottery, 20 High Street,
Moffat, Dumfriesshire. DG10 9HL,
Telephone (01683) 220 793.

---
Moffat miracle claim....
Moffat's well-known singing potter, Gerry Lyons, claims his life has been saved by a miracle. The 52-year-old former opera singer has made the revelation on the eve of the launch of his new cassette tape featuring a selection of popular hymns. A born-again Christian, he says he was inspired to make the album by his experiences.
He told Dumfriesshire Newspapers: "I had not been well for some time and was diagnosed by the hospital consultants as having a serious heart condition. They were candid and told me my heart was damaged and there was no cure He said, "It was a simple act of faith as described in the Bible, but it brought home to me the power of prayer. I knew immediately that God was going to help me." "I've continued to go back for check-ups and they have been unable to explain how my health has improved so dramatically. It was a miracle. I couldn't walk fast without experiencing pain before this happened... now I can climb from the foot of the 'Devil's Beef Tub' to the top."

---